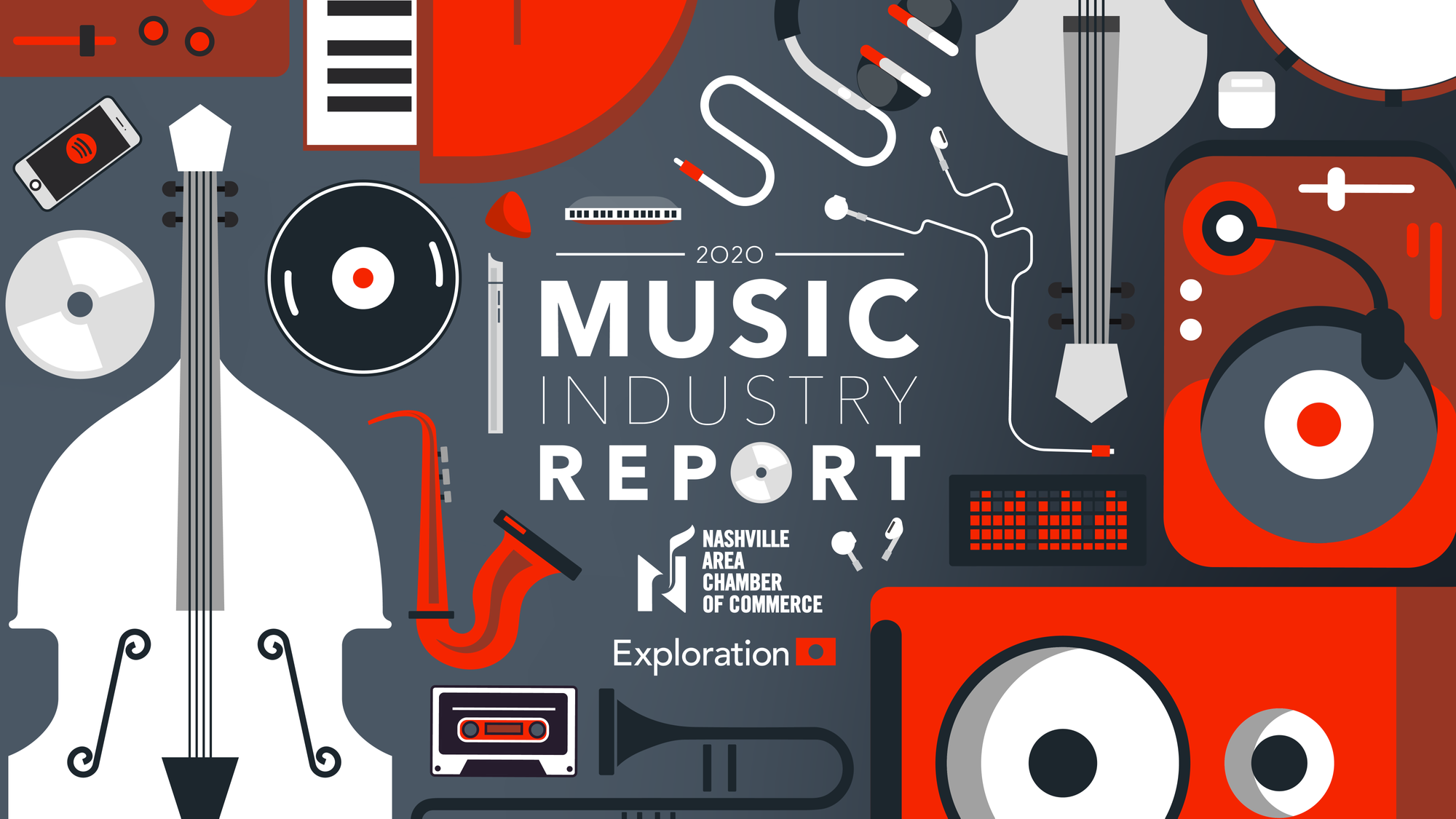 "Data are just summaries of thousands of stories — tell a few of those stories to help make the data meaningful."

Chip & Dan Heath, Authors of Made to Stick, Switch

---
Last week we introduced The Music Industry Report – 2020, a market research project about the music industry. To learn more about the project and how it came to be, plus to sign up to receive the free publication on December 10th, sign up to receive an advance copy:

https://www.exploration.io/music-industry-report-2020/#exploration_report/

This newsletter serves as the first in a multi-part series in which we present our findings. Each heading will notate a particular observation; the text following it will outline the data that led to our observation.


---
Exploration Weekly - December 4, 2020
Nashville's music industry is growing.

Based on historical data from the Bureau of Labor Statistics and economic modeling software (not yet taking into account the financial implications of COVID-19), Nashville's music industry cluster represented 16,298 jobs in 2019 with average annual earnings of $81,521. Direct music industry employment has increased by 29% in the region since 2012. Nashville is 3rd in the nation in terms of jobs in the music industry behind Los Angeles and New York City. The region has the highest location quotient of employment in the music industry of any MSA in the United States. (A location quotient [LQ] tells the amount of a region's share of employment in a specific industry as a percent of total national employment for that industry.) Looking at the top ten MSAs in the U.S. for music industry jobs and job growth, over the ten-year period from 2009 to 2019, the Nashville MSA ranks 1st for net job growth and growth rate. Even in terms of net job growth, the Nashville MSA had five times the net job growth of Los Angeles and 200 times the job growth of NYC.

For exact numbers on the economic impact of the music industry in Nashville's MSA, including $GDP and total employment in the United States, sign up to get the final report on December 10th.

Live streaming is a promising new media emerging during COVID-19 for performing artists.

Among respondents to our Survey to the Music Industry, "live streaming" was ranked #1 among non-live sources of revenue. While 83.9% of music creators surveyed did not perform any livestream concerts between March and April of 2019, 82.8% of music creators performed at least one live stream concert between March and April of 2020. Data from the Consumer Survey sends some mixed messages when it comes to the "success" of live streaming. 58.5% of respondents attended a livestream between March and April of 2020. This is a 32.5% improvement from March through April of 2019. Comparing a live concert experience to a digitally streamed concert, 50.2% said it is nowhere near the real experience. 31.1% of people said it is "pretty good but not the same."

Find out whether consumers are willing to pay for a live stream concert, how much they're willing to pay, and how the new concert norm stacks up against a live experience. Plus, hear from the recording artists who are making a living from live streaming. Download the Music Industry Report – 2020.

Spotify is the #1 way to listen to music among all surveyed consumers.

In fact, 75% subscribe to a music streaming service. Second only to word of mouth, music streaming services are the primary way that respondents to the Music Consumers Survey discover new music (20.9%). Most people listen at home (52.3%), in a car (31.5%), or at work (11.5%). YouTube Music was the second most popular interactive digital streaming option, followed by Apple Music, then Pandora. AM/FM Radio was second overall; CDs and vinyl records were fourth and fifth, respectively.

To learn about the features consumers find most valuable in a digital music streaming platform, click through to our landing page for the Music Industry Report – 2020. We'll email you the report on December 10th.

The music industry has an opportunity to become more diverse.

Only 9.0% of music industry professionals in the United States are Black or African American. This compares to 8.0% in the Nashville region. In the United States approximately 13.0% of the population is Black or African American. This compares to approximately 16.0% in the Nashville region.

We hosted a focus group to examine the impacts of this event and ongoing diversity and inclusion efforts in the city of Nashville.

Key take-aways include:

• Hiring and Job Creation: Diversity has to be a commitment at all levels, especially in management, in order for the music industry to improve. It has to be built into the infrastructure of the music industry for it to last.

• Intentionality: #BlackoutTuesday was the key to opening the door to conversations about diversity in many spaces, but representation is still an issue.

• Ownership: Ownership of record labels, of space like the National Museum of African American Music, and of space for Black creatives, is crucial for an equitable industry.

• Sustainable Opportunities: Creating sustainable and repeatable business opportunities and infrastructure for creators is necessary for representation and inclusivity to endure.

End of Pt. 1

Are you enjoying this series? Please show your support for Music Health Alliance, a non-profit helping music creators navigate the healthcare system.

Venmo: @MUSICHEALTHALLIANCE

Can you think of any data you don't see here? Let us know by emailing hello@exploration.io! We will include it next week.

Study Partners


---
Who is Exploration?

Exploration is proud to be the company of choice to administer much of the world's most important media. Utilizing competent staff and advanced technology, our clients are able to better control their data and collect their money.

We're writing a free book on how the music business works. Learn more here.

The catalog metadata template offers the minimum viable data needed to collect publishing royalties. Download the .csv file here.

To see who is collecting your royalties, request a free copyright audit here!

Please feel free to reach out anytime if you have any questions or ideas!

Hope you have a great weekend!

hello@exploration.io
http://exploration.io
Facebook
Twitter
Linkedin
Google+
310-739-5482
171 Pier Ave., #251
Santa Monica, CA 90405