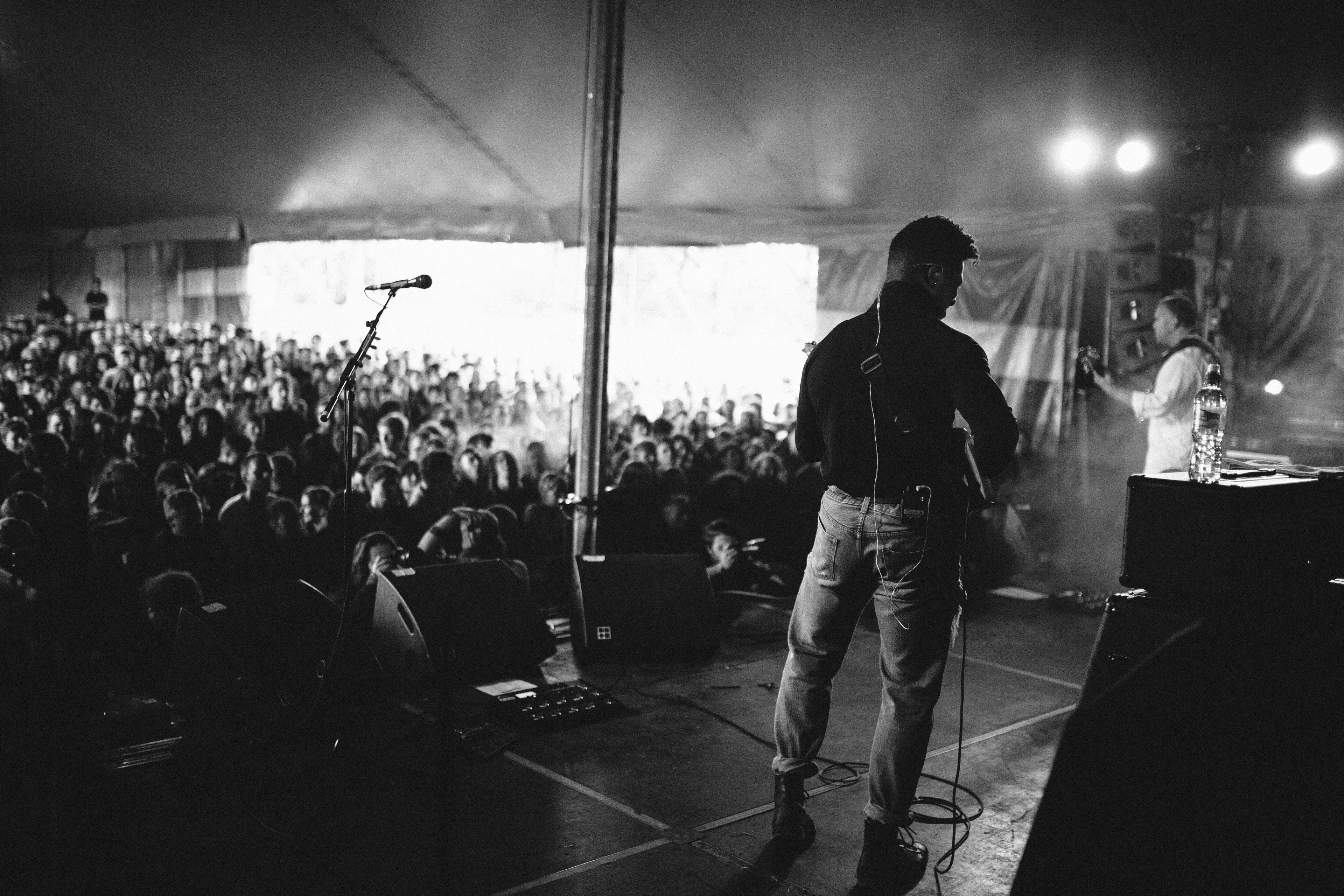 "In a time of destruction, create something."
Maxine Hong Kingston
---
We're excited to hear the new public offering filed this Wednesday by Spotify - a quite impressive and long-awaited move by the digital service. Spotify has entered quite a few (and expensive) legal battles for the past few years to fill up its agenda around songwriter compensation, but as of recently, the company has made inclusive attempts to credit songwriters on their platform. According to the paperwork in Spotify's direct public listing, the platform has also declared more than €8 billion in royalties ($9.76 billion) to artists, music labels and publishers since its launch in 2008.
News of Chinese internet giant Tencent - one of Spotify's major shareholders - has also shown that the company will be investing $115 million to develop Indian music streaming service Gaana. The investment follows a deal with Spotify which led to both companies to swap shares in December. One could imagine how this will affect Spotify's future prospects in countries outside of the US. But for now, it seems to be focused on its U.S. public listing.
Rapid changes are also being made in the realm of social media as lawyers and judges discussed the legal meaning of embedding a tweet, which apparently can be construed as copyright infringement. A new photo-sharing app has also launched, called Vero, which intends to put users first and defy the "advertiser-dependent" tactics used by Facebook and Instagram. As publishing advocates, we can't wait to see how this will affect content creators and the process of compensating them fairly.
Now, the details...
---
Exploration Weekly - March 2, 2018
Spotify Officially Goes Public, Trading as "SPOT"
Spotify officially filed its paperwork for a public offering with the Security and Exchanges Commission on Wednesday February 28th, trading as "SPOT" at the New York Stock Exchange. With an approximate total of 159 million monthly active users and 71 million premium subscribers as of December 31st, 2017, the service claims a user base nearly double that of Apple Music. The platform has also declared more than €8 billion in royalties ($9.76 billion) to artists, music labels and publishers since its launch in 2008 - an impressive number that expects to grow. According to the paperwork, Spotify shares are set between $90 and $132.50 so far this year on private markets. At that highest valuation, the company could be worth more than $23.45 billion based on ordinary shares outstanding as of Feb. 22. "Our mission is to unlock the potential of human creativity by giving a million creative artists the opportunity to live off their art and billions of fans the opportunity to enjoy and be inspired by these creators," it wrote in the prospectus summary overview.
Tencent Invests $115 Million To Develop Indian Music Streaming Service Gaana
China's music streaming and karaoke service, Tencent Music Entertainment, sees opportunity in India as it recently agreed to invest $115 million in India's streaming service, Gaana. Seven years ago, Gaana was started by Times Media, the company behind the Times of India newspaper and tech incubator Times Internet. CEO Prashan Agarwal confirms the streaming service is "only 10 percent of the way towards building a business useful for 500 million Indians." The investment will be used to develop artificial intelligence around Gaana's ability to create more personalized services and features for listeners. It will also be pouring capital into its paid-user service.
Vero Adds Social Media Hype, Users First
A top ranking social media app called Vero is now available in Apple's App Store. Vero - the "anti-Facebook" photo-sharing app - quietly launched in 2015 and is subscription-based, distinguishing itself from other platforms like Facebook, Twitter, Instagram, and Snapchat, which mainly depend on advertising. By focusing on users first, Vero touts not having algorithms that decide what you see. Vero co-founder and CEO Ayman Hariri stated, "You need to have the entire environment encourage a true social interaction." However, will Vero's business last? The hype cycle may last until users realize they'll need to pay for the subscription. There is much buzz going on around this "relationship-first social network" and plenty of curiosity around whether Vero will have a lasting impact in the digital space.
Frank Ocean Sues Producer Om'Mas Keith on "Blonde"
Frank Ocean is pursuing producer Om'Mas Keith in court for allegedly claiming co-writing credit on the songs "Be Yourself," "Futura Free," "Godspeed," "Ivy," "Nights," "Nikes," "Pink + White," "Pretty Sweet," "Skyline To," "Solo," and "White Ferrari" from the 2016 album "Blonde". The suit details Keith was brought on as a work-for-hire producer and paid a flat fee for his contributions to the album. Frank Ocean is asking Om'Mas Keith's removal from performance rights organization ASCAP and a legal injunction preventing him from receiving any co-writing credits on Frank Ocean's titles. He is not seeking any specific monetary damages apart from attorney's fees and "such other and further relief as the Court deems just and proper." Om'Mas Keith previously collaborated with Ocean on the 2012 album "Channel Orange".
Tweet-Embedding is New Copyright Infringement
Embedding tweets could violate the exclusive right to display a copyrighted image, according to an ongoing federal court case filed in New York. In 2016, Plaintiff Justin Goldman sued media outlets for copyright infringement when his photo of New England Patriots quarterback Tom Brady with Boston Celtics General Manager Danny Ainge went viral on Snapchat and Twitter. Several users uploaded and re-tweeted the image, which also led media outlets and blogs to publish articles featuring the photo by embedding the tweets on their webpages. The court questioned whether the media outlets "embedding" the Twitter links were, in fact, violating Goldman's right to display the image. The Copyright Act states that a copyright owner has the exclusive right to display the copyrighted work publicly by "show[ing] a copy of it, either directly or by means of a film, slide, television image, or any other device or process." The media outlets did not intentionally copy or save the photo on their own servers, which led the court judge to perceive the case with a fairly broad perspective, claiming the drafters of the Copyright Act intended the right to encompass "a wide array of technologies". They went further to claim all defendants "took active steps to put a process in place that resulted in a transmission of the photos so that they could be visibly shown."
Digital Advertising Comes First, TV Advertising Dying
Advertisers are actively transferring budgets from TV to digital sectors like YouTube and Netflix. In 2016, US revenues from digital advertising exceeded revenues from TV for the first time with a whopping $72.5 billion by 22% compared to $71.3 billion from TV. Only 36% of consumers noted that they cannot do without a TV screen. Meanwhile, 67% cannot imagine their lives without YouTube and 51% seem to lose meaning in life without Netflix. The same audience is watching 2.5 times more internet videos than traditional TV. On average, they spend 12.1 hours each week on free internet content and 8.8 hours on paid internet videos as opposed to 8.2 hours of television. According to The Next Web, "Traditional advertising is slowly dying and a personalized Internet, along with personalized advertising, is the true future."
YouTube Music Not Launching Just Yet at SXSW
Despite expectations from music industry insiders saying YouTube will launch its premium subscription service at this year's SXSW in Austin, Texas, sources claim, according to Variety, that the launch will subsequently not be happening just yet during the music festival. YouTube has secured deals with all three major music labels, giving the music business more reason to believe their launch was to happen very soon. Bloomberg was first to report the March launch of YouTube Music late last year. However, Variety has been informed that the digital service will be instead using the event to highlight some of Google's other products and initiatives. YouTube CEO Susan Wojcicki will also still be scheduled to speak as part of the SXSW conference program. The next opportunity for a YouTube Music launch announcement is expected to be at the Google I/O developer conference, scheduled to be held in early May.
YouTube Starts Artist Spotlight Series with Camila Cabello: "Made in Miami"
YouTube released a 17-minute mini-documentary titled "Made in Miami" this week, focusing on Camila Cabello's journey to becoming a successful, chart-topping artist. The company produced a mini-series of behind-the-scenes videos for Cabello last November for her "Havana" music video, but this newest "Artist Spotlight Story" will debut with the Fifth Harmony member, followed by a slew of many more musicians. According to YouTube's global head of music Lyor Cohen, "Our Artist Spotlight Stories are intimate and personal portraits of artists that give them the unique opportunity to share these special moments with fans. Cabello's 'Made in Miami' won't be the last, then. Released yesterday, it's already up to more than 500k views on YouTube."
Music Group Speaks Out About 3 Key Concerns in Music Modernization Act
The Council of Music Creators identified three key issues to be considered for the Music Modernization Act: governance of the new collecting society it will create, the system for distributing unallocated royalties, and the lack of a grievance process. The Music Modernization Act is intended to cease the pile up of mechanical rights cases and complaints by songwriters and music publishers around unfair compensation from digital service providers. Last week, the CMC posted a YouTube video in which it outlined its three main grievances with the latest draft of the Music Modernization Act.
Jordan Bromley: What is the Music Modernization Act and Why Does It Matter?
Jordan Bromley is a partner at law firm Manatt, Phelps & Phillips, LLP. In a guest post on Billboard this week, Bromley explains that the Music Modernization Act will enact a formalized body run by publishers that will administer mechanical rights of compositions streamed on digital services like Spotify and Apple Music. The bill, which has received support from both the Democratic and Republican parties, will help support a comprehensive database that will, for the first time, compile musical works with active participation from major music publishers and digital service providers (DSPs). In addition, performance rights organizations ASCAP and BMI will argue better rates for the performance of musical works on DSPs. Bromley further emphasizes that supporting this bill will help both songwriters and publishers agree to work via a modernized process in music licensing, subsequently paying out rights holders more efficiently. Finally, he notes that this will give the DSPs the confidence and assurance to accurately and comprehensively license the music they service on their platforms. "This bill was borne from good intentions," he adds, "and a genuine desire by songwriters, publishers and DSPs to solve a problem."
Midem Produces White Paper on Technology and Music Revolution
Midem produced a white paper which tackles trends and progress of audio recognition, automated messaging and music composition Al, and feature interviews with tech makers such as WARM, DJ Monitor, Dubset, POP, Jukedeck and Rotor. The white paper provides fundamental information highlighting three upcoming technologies that expects to be categorized generically under the umbrella of artificial intelligence that would likely transform and revolutionize the future of music industry.
---
Random Ramblings
Who is Exploration?

Exploration is proud to be the company of choice to administer much of the world's most important media. We rely on advanced technology and a competent, full-time staff of 50+ people to help our clients and partners better control their data and collect their money.

We wrote a free book on how the music business works.

Download our catalog metadata template, which offers the minimum viable data needed to collect publishing royalties.

To see who is collecting your royalties, request a free copyright audit.