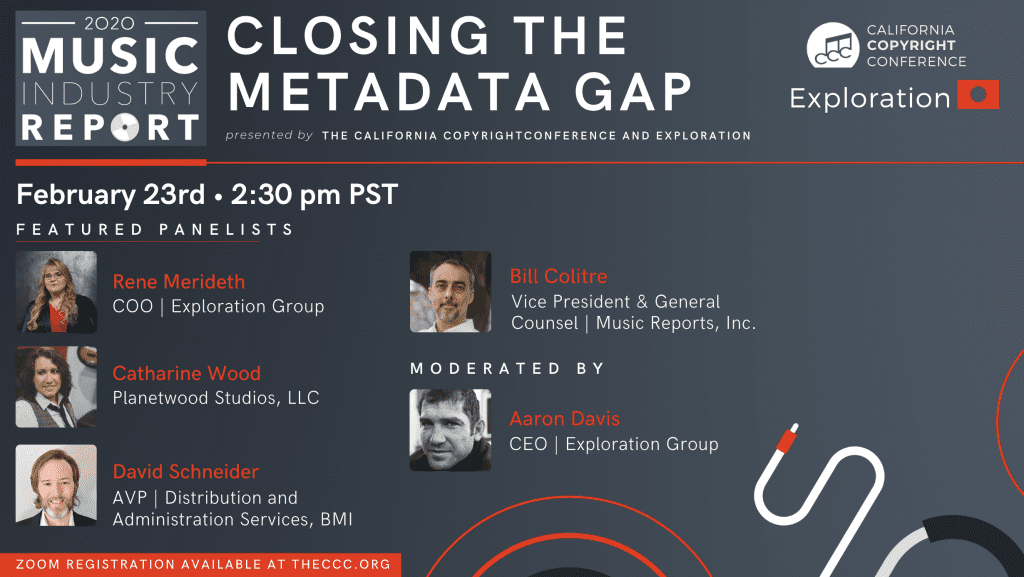 Sherman Oaks, Calif. (February 23, 2021): For such a prolific buzzword, the term "metadata" still rouses uncertainty for many music industry professionals. As uncertainty grows, so does the disparity in value for rights owners. Here to address metadata education and efforts towards more certain future in music are four panelists well versed in the ways of metadata. Drawing from the insights of the Music Industry Report – 2020, collective experience in rights administration, royalty collection, audio engineering, copyright law and more — this webinar is designed to demystify metadata for music workers of every variety. Join us on February 23rd at 2:30 pm PST to discuss Closing the Metadata Gap.
Who: The California Copyright Conference and Exploration
What: A virtual event to explore ways we can improve metadata literacy in the music industry to close the gaps in value between rights owners and users of their work, driven by insights from the Music Industry Report 2020.
When: Tuesday, February 23, 2021 | 2:30 PM PST
Where: Join online. Pre-registration required.
Topic: Closing the Metadata Gap // Audience Q&A: Yes
Exploration Group
Alexander Baynum 540-529-0301
FOR IMMEDIATE RELEASE